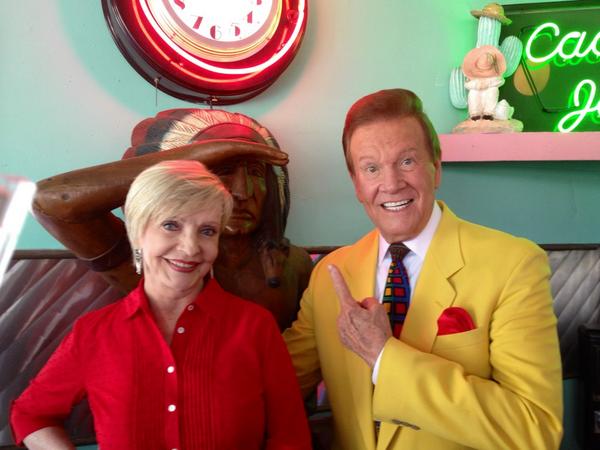 Henderson and Martindale in a "Throwback Thursday" GSN ad.
Most of us already know that GSN will terminate "Throwback Thursday", a weekday morning block each Thursday which featured an additional 1 to 2 hours of pre-1990 game show programming. In this block, GSN aired
Super Password, Blockbusters
and from time to time,
Tattletales, All Star Secrets, Babble
and
Crosswits
.
Throwback Thursday had been sponsored by Tylenol. GSN's sponsorship with Tylenol ends this coming Wednesday, the last day of 2014.

Tylenol began sponsoring GSN's classic programming block this past July and GSN added "Throwback Thursday." Wink Martindale and Florence Henderson were featured in some of the GSN advertisements. Then, as ratings were stagnant for the "Throwback Thursday" block throughout the summer, in the first week of September, Game Show Network had three options presented by Tylenol. One, to expand "Throwback Thursday" where Tylenol would have ads stretch through the block through mid-afternoon which would be a loss of money with lower ratings throughout daytime. GSN declined. GSN also had an option to have Tylenol sponsor all seven mornings of their classic lineup. GSN declined that as well.

Tylenol, not happy with the "Throwback Thursday" viewership, gave GSN a third option in September. Tylenol wanted to sponsor primetime programming but there was an immediate halt by GSN. By early September when these negotiations were occurring, The Chase had ended the first part of its third season (September 2nd) and the remaining episodes already had the needed sponsors. GSN offered Tylenol prime advertisement slots for their fourth season but that was not coming around until 2015 and the GSN-Tylenol agreement already terminated on December 31, 2014. Idiotest and Skin Wars were also mid-season at that point.

GSN then told Tylenol they would air old game shows starting in alphabetical order starting Sunday nights. On September 8th and 10th, GSN acquired an episode of All Star Secrets and an episode of Babble which were set to air on Friday, September 26th but got bumped to Sunday, October 5th due to formality issues, which angered Tylenol since they wanted a "monthly" primetime block for four months (September through December) but it looked like GSN was only going to do three months starting in October. Although All Star Secrets and Babble together delivered the worst primetime ratings in GSN since 2000, GSN later turned around and aired Crosswits October 26th, Tattletales November 30th and What's My Line/To Tell The Truth December 21st.

GSN and Tylenol will not continue their alliance with each other through 2015, although it is highly probable that Tylenol advertisements will still surface on GSN in 2015 due to GSN's older-skewing audience.