Today GSN released their upfronts for the 2014-15 television season. This will be broken down press release by press release for all five of them (yes, five):
GSN Greenlights Idiot Test and Adds New Programming
This is the third annual upfront. GSN has officially green-lit
Idiot Test
, where two pairs of contestants with a pre-existing rivalry will face off to see who is better and who is worse. Rapid fire questions and general knowledge questions are used. More ordered pilots here include
App Wars
and
Say What?
Other programs in development include
The Tunnel, Heavy Betters, The Line
and
Star Crossed Lovers
. More on these and predictions in another post.
GSN Renews The Chase for a third season consisting of 13 episodes
Brooke Burns and Mark Labbett are back for Season 3. No big surprises, and a very nice sized episode order. Auditions are being held in March and April throughout various cities. More on that in another post as well.
American Bible Challenge to have two-hour premiere Thursday, May 22nd
No surprise here, considering the on TV commercials. This third season will consist of nine new episodes which will air throughout the Summer, two of which on May 22nd from 8pm to 10pm (ET). From there on out, one new
Bible
episode will air per week effective May 29th.
It Takes a Church to premiere June 5th at 9pm Eastern after American Bible Challenge.
A perfect lead-out to
American Bible Challenge. It Takes a Church
will premiere immediately after a new episode of
American Bible Challenge
and this new series contains eight episodes.
It Takes a Church
is hosted by Natalie Grant.
Ben Gleib to host The Idiot Test
We'll really have to wait and see how this one goes. 40 episodes have been ordered, a rather large order and there is no anticipated premiere date. This will make it to air though.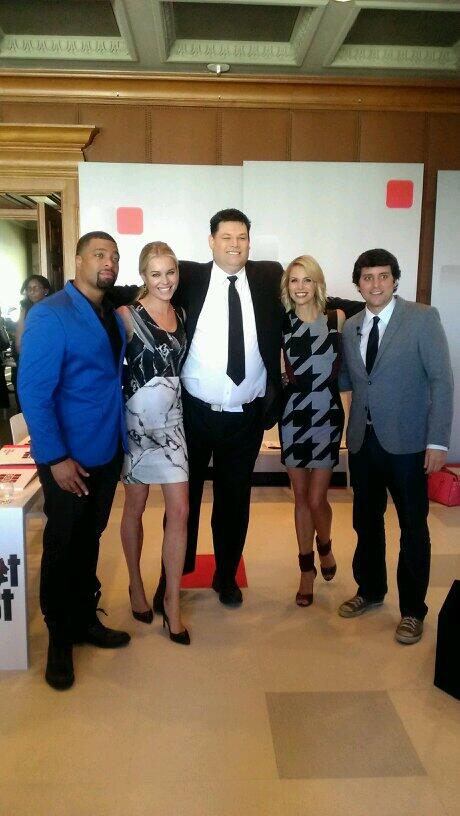 At GSN Upfronts in New York City: DeRay Davis (Mind of a Man), Rebecca Romijn (Skin Wars), Mark Labbett and Brooke Burns (The Chase) and Ben Gleib (Idiot Test). Courtesy of Fashion Week NYC