Based on the schedule changes
beginning December 2nd
and the weekend of November 23/24: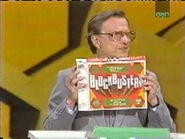 BlockBusters (Weekdays 9am)
: This classic game show, the first "New" show on the schedule since
Sale of the Century
in April of this year, will spike morning ratings above what
Super Password
has done now.
Super Password
has shown success after
Match Game
(which produces very healthy numbers for
that
early in the morning) since mid-July. The reduction (split in half) of
Super Password
will also boost ratings at 11am.
Blockbusters
will be a mild morning success and boost numbers for
Press Your Luck
, though
The $25,000 Pyramid
will remain the highest rated pre-1990's show.
Syndicated Sale of the Century (Weekdays 10am):
With it's same fine lead-in of
Press Your Luck
and the Thanksgiving marathon-hype, the syndicated version of
Sale of the Century
will bring in elevated numbers but nothing significant. Since the show has the same title and the same host, your causal GSN viewer (no one who is a classic fanatic) will not notice that these episodes are "New to GSN" until they thoroughly watch the episodes.
Shop 'Til You Drop (Weekdays 4 & 4:30pm):
Even though this is in the same time-era as Richard Karn's
Family Feud
and is highly likable to game show fans, this could potentially become one of the biggest let downs in the T.V. ratings. Since this game show title is highly unrecognizable to most cable viewers, where
Family Feud
and
Catch 21
are,
Shop 'Til You Drop
will start out with a very slow start, even dipping to numbers under 200,000 viewers in the 4pm hour. Though, throughout the month of December, ratings will show a rise.
The noon hour numbers for
Shop 'Til You Drop
will rise from what Karn
Feud
left, though will not be significantly bigger since the noon runs are reruns from episodes the day prior at 4pm.
The Newlywed Game (Sundays 7pm):
The Newlywed Game
continues to prosper in its reruns cycle, particularly in Thursday primetime, sandwiched between Steve Harvey's
Family Feud
, and in edition
The Newlywed Game
has put up strong numbers late Saturday and Sunday nights.
The Newlywed Game
now gets a five and a half hour primetime block effective November 24th and will rise from the sour-
Minute to Win It
numbers.
The Newlywed Game,
with the
Family Feud
lead-in will do very well throughout the whole night to become one of the highest rated primetime nights, topping Mondays, Tuesdays, Fridays and Saturdays.