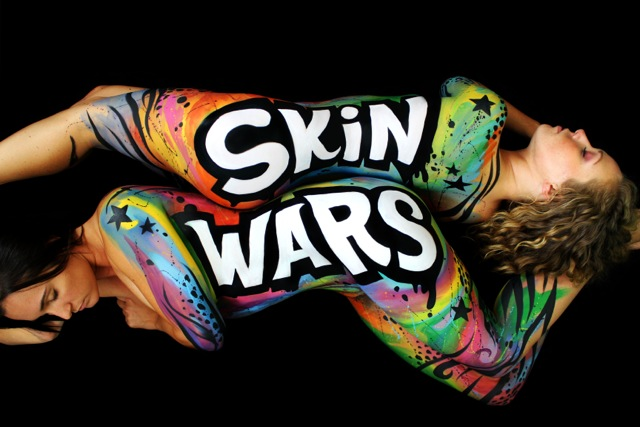 Nudity, anyone?
After the successes of shows like
The Chase, American Bible Challenge
in addition to reruns of
5th Grader
and
Family Feud,
GSN has green-lit reality competition series
Skin Wars
headed our way in early 2014. GSN first proposed this series
in the June upfronts
, the second upfronts of the 2013-14 season.
By description:
Advertisers, photographers, event promoters and magazine editors have all discovered the power of the sexy art of body painting. It takes patience, talent and artistic flair to deal with the unique challenges of painting a three-dimensional body.
SKIN WARS
puts these incredible artists to the test in a series of unbelievable and visual challenges. One week the camouflage challenge may have them blending their models into an existing environment, the next they may be turning people into animals. Each week, incredible artistic ability is on display and in the end America's best body painter will be crowned.
For the moment, this takes in a small group of people, unlike a mass audience of quizzers and Bible Geniuses. The whole body aspect sounds like an R-Rated type of show, at least un-friendly to a mature American TV audience. The description does sound like there will be "contestants", and in the end, just like
American Bible Challenge
, a winner will be crowned.
Mark my words.
Skin Wars
has the potential to be GSN's biggest flop yet. The fact that each episode is an hour-long will not end well for GSN, whereas all
Family Trade
needed was six weeks, this needs eight weeks. Could a GSN audience handle an hour of this? I highly doubt it. I seriously do think more than one new episode(s) of this series will see below 200,000 viewers.
GSN's last attempt at reality was
Family Trade
, which premiered with 403,000 viewers in the 8pm hour on March 12th. Throughout the six-week series, the eight half-hour new runs averaged 274,000 viewers while the same night reruns averaged 139,000 viewers
. Family Trade
was completely banished from the GSN schedule by the end of April, and has not returned since.